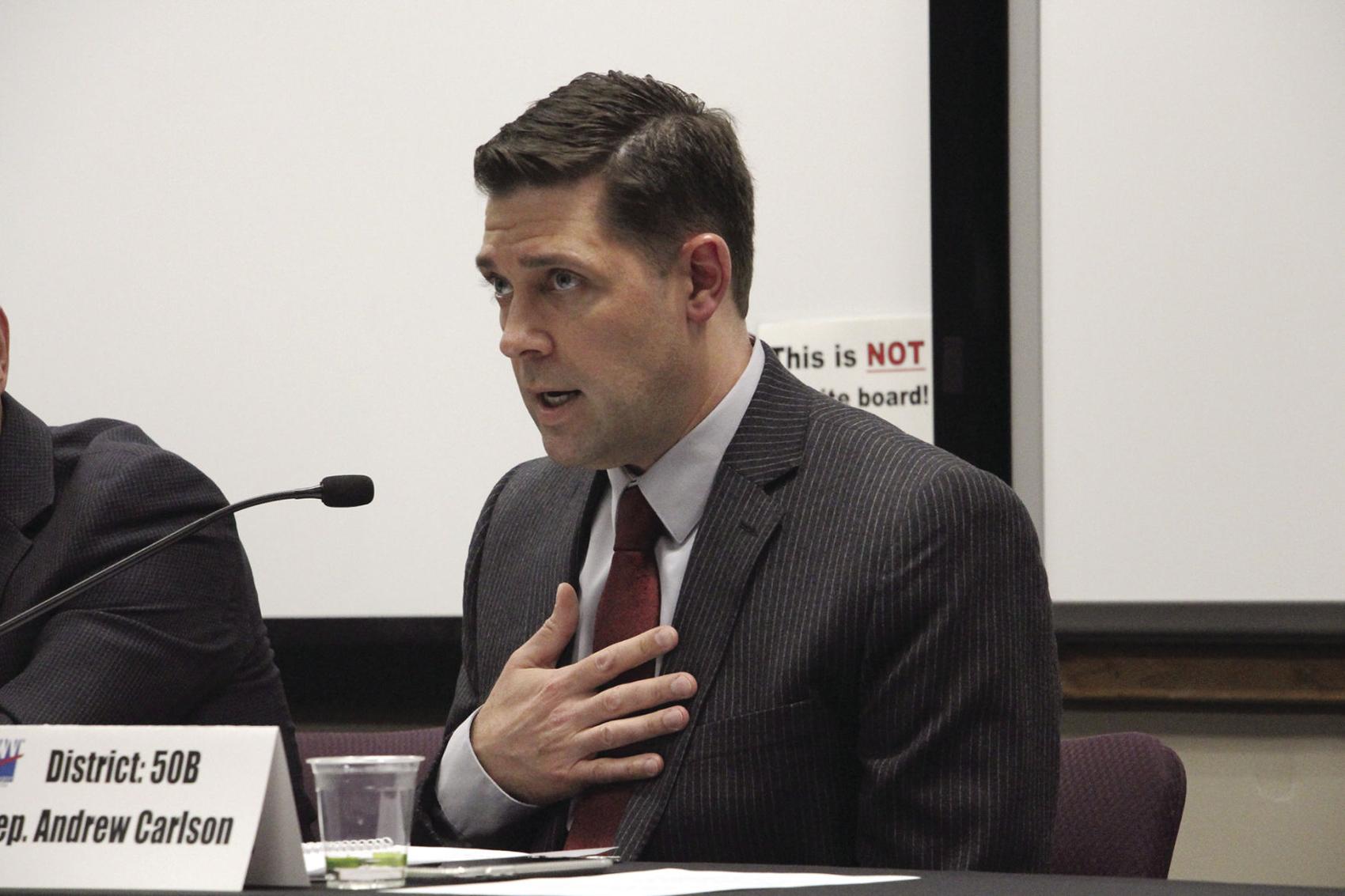 State Rep. Andrew Carlson (D-50B), discusses issues the Minnesota Legislature will consider during the 2020 session, which begins next week, at a Jan. 28 League of Women Voters forum in Bloomington. (Sun Current staff photo by Mike Hanks)
State bonding is on the Minnesota Legislature's 2020 agenda, and projects that benefit Bloomington and its neighboring communities have champions in both the state House and Senate.
Bloomington's three state representatives – Steve Elkins (D-49B), Michael Howard (D-50A) and Andrew Carlson (D-50B) – and two state senators – Melisa Franzen (D-49) and Melissa Halvorson Wiklund (D-50) – will discuss bonding, and many other proposals, when the 2020 session commences Feb. 11. They discussed the upcoming session during a League of Women Voters Bloomington forum last week and provided additional thoughts on the 2020 agenda.
Projects across the state vie for state funding through the bonding bill, and three proposals tied to Bloomington are improvements to Bloomington Center for the Arts and Normandale Community College – both in Bloomington – and improvements to the South Metro Public Safety Training Facility in Edina, which is used by several public safety departments in the area.
The arts center is seeking to expand its footprint and better accommodate the organizations using its space. The college is eying a redesign of classroom and student gathering space, with improvements to the systems that heat and cool the campus.
Bloomington is seeking $10 million from the state to match city investment and private contributions toward the arts center, which was built as part of the city's civic plaza project.
The college is seeking $26 million to renovate classrooms, create more gathering areas for students to meet for group study and improve the mechanical systems on campus.
The public safety training facility, which is a regional asset used by the Minneapolis-St. Paul International Airport's public safety departments, is seeking $6 million for upgrades, Franzen noted.
The projects are in the governor's bonding bill and are highly ranked in the House bonding proposal, according to Elkins.
As projects compete for state bonding, there are other financial considerations lawmakers will factor into their decisions, such as a projected surplus of approximately $1.2 billion, according to Howard. The surplus comprises many one-time resources, and Howard wants to see the surplus earmarked toward issues that Minnesota families face due to gaps created by racial or economic factors, he explained.
How to spend money, and how much, is a common legislative topic. But, a variety of health issues will be among topics debated by lawmakers as well.
Howard and Wiklund championed bills intended to address the rising cost of insulin, an issue that has proven to be difficult for lawmakers to agree upon.
Both emergency access to insulin and curbing its rising cost are topics that the House and Senate are expected to revisit in 2020, according to Wiklund.
That discussion was bolstered last week when Gov. Tim Walz and Democrats gathered to present their latest version of a bill intended to address both emergency supplies and the rising costs.
Updating the medical cannabis program in the state, ensuring that patients who qualify for it have affordable access, is also a discussion Franzen anticipates. Questions lawmakers will debate include how to allow for patients to use it while attending school, she noted.
Access to taxicabs and ride-share companies is challenging for customers who use a wheelchair. Will there be a surcharge on such service providers to increase the number of wheelchair-accessible vehicles available to such customers? Elkins expects the topic to be discussed.
He is also a proponent of price transparency in the health care industry. Elkins wants hospitals to provide list pricing for medication, which is important to both consumers who pay less than the list price as a result of their co-pay and health insurance provider's discount and consumers who do not have insurance, he explained.
Bills tangentially linked to health care, such as clean energy, are already being introduced, and Carlson expects robust policy conversations in the upcoming session.
The 2020 elections will prompt debate on the House and Senate floor and in communities across the state.
The upcoming presidential primary, where voters will have to designate their party in order to receive a ballot, has raised concerns because the list of voters by party will be available to the major parties of Minnesota, and voters who hold nonpartisan positions may not want to be identified with a political party.
Franzen said she supports proposals that would limit the access, and use of, presidential primary voter lists. She questions if the system will discourage some voters from participating in order to avoid being labeled as a party member. Elkins said there is interest in keeping the party affiliation anonymous, and it may have support in the House, where the DFL is in the majority, but he doubts it will have support in the Republican-led Senate.
Elkins, a proponent of ranked-choice voting, thinks there's more interest among school boards in adopting the system, as it's an anecdote to bullet balloting. He said that the use of ranked-choice voting in St. Louis Park during the past election was successful and uneventful.
He's also a proponent of the system during primary elections such as the upcoming presidential primary, where the winner in Minnesota among a field of Democrats seeking the party nomination will likely win with less than 20 of the votes cast. The single-vote scenario this year doesn't ensure that the state's winner has the support of the majority of Democratic voters. While Elkins supports expanding the use of ranked-choice voting, "We're not going to get it past the Senate this year," he said.